STAND NUMBER: 1322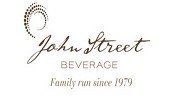 John Street Beverage
John Street Beverage

Reliable, efficient, welcoming. Look no further than John Street Beverage for all your business needs. We are your one stop shop for everything you need for your individual beverage requirements. Need coffee? We`ve got you covered. Tea? Hot Chocolate? Cold drinks? Tick, tick, tick. We also provide private label, coffee blends, coffee machines, sundries, barista training and equipment.

We pride ourselves in our high standard of customer care as well as the products we provide. Customer care is paramount here at John Street Beverage and our approachable team are always pleased to answer any questions you may have. In addition we have a training team who are fully qualified to deliver barista training courses, either here in our fully equipped training room or at your own business. Here at John Street Beverage we understand that starting and growing a business is a stressful and difficult time, so our aim is to help ease the process as much as we possibly can.

We have many long-standing customers, some that have been with us for over a decade, who we continue to serve. Our high level of service will stay the same whether you`re a new or existing client. With over 37 years` experience and over a 1,000 customers, there is no doubt that we know the coffee industry pretty well. The family-run business was started by John Street in 1978 when he was introduced to an independent coffee roaster. His love for coffee grew from there and his first case of coffee was sold in May 1979. Since then we have perfected our knowledge and expertise of the industry meaning we are able to provide excellent support to our customers. Now the company is run by John`s son, Stephen Street, who shares an equal love for the coffee and beverage industry.

Our friendly, innovative, well-equipped company really can help with your business needs, whether you`re a new company starting out or a pre-existing company looking for a new supplier to partner. We can provide you with brands including Monin, Teapigs, Birchall, Monbana and much more. Our next day delivery service is just one of the ways that we make sure our customers always come first so that we can provide a dependable efficient service for you.

To see an extensive list of our products head over to our website at www.johnstreetbeverage.com
We look forward to seeing you at the show!