STAND NUMBER: 7050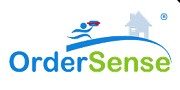 OrderSense
How your Takeaway/Restaurant APPS & Website would benefit your Business Boost Efficiency
Your Own Website and responsive app
We Focus on Websites for Multiple Restaurants & Takeaways. Our solution allows you to create your own Website for Restaurants & Takeaways. we create a custom Web for you and you pay only a simple monthly subscription. No Commission at all


Mobile Apps
Each app that we create is submitted to Apple and Google for approval and inclusion in their app stores. Your customers will then be able to download it to their device free of charge (in the same way they usually get apps).

Email Marketing
OrderSense Uploads all your business data and manage customer lists,Create address books,Send Regular Campaign Reporting,Measure campaign performance,Send Inbox Preview,Set up the creative based on content & Offer / Deal.

Social Media Marketing
We offer unique social media services to our clients looking to harness the true potential of social media marketing.Facebook Fan Pages Creation & Management, Google+ Page and daily Updates, Twitter

My Business Centre
Access to an app "my business center" where you can see and manage your online order on the go. My business center offer the ability to manage and amend your takeaway menu, see order statistics and generate reports.

Order Notification Terminal
Through the OrderSense® system we make sure your customer order is delivered to you by monitoring your ordering system service in real time. Our system`s features include real time printing solution. You do not need to have an internet connection or a separate PC for receiving orders. Our GPRS print solution would print orders right in your kitchen. All you need is an electric socket to plug our printing solution in.

01183273360