Griff Holland
Co-founder of the Fast-Growing Friska
Griff Holland co-founded Friska in 2009 with his partner Ed Brown.

Born in Brazil, schooled in the mean streets of Berkshire and graduating in Economics from The University of Bath, starting something to feel good about has always been part of the plan for both founders.

Since starting Friska the founders have raised investment capital to open stores throughout the UK and won the Observer Food Monthly Award for Best Ethical restaurant (even though Friska isn't really a restaurant!).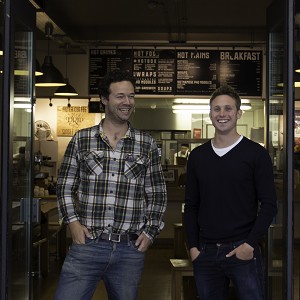 (trying) to redefine expectations within our industry from the inside out.
Mission, values and culture are all simple words to say, so much so that everyone seems to be saying pretty much the same thing; namely culture is key and people are supposedly the most important part of their business…..humm If this is the case then how can recruitment and more importantly retention of potential talent one of the biggest challenges in our industry? Over the past 6 years we have been trying (sometimes succeeding and sometimes failing), to create a business who's purpose, values and operations are all aligned, from top to bottom. Co-founder Griff Holland will look at Friska's journey to date and reflect on some of the pivotal moments over the past 7 years at as the company has tried to establish itself as the best place to go for breakfast, lunch, coffee and of course hospitality every day.
EVEN MORE SEMINARS